BlueNav : 1,3Meuros to meet the demand for electric boats
2Meuros of capital for BlueNav
The young company BlueNav, founded in 2020, is accelerating its development in the field of electric motors for the transition of boating, through hybrid or 100% electric solutions. It has just announced the success of its first fundraising. The company has raised 1.3 million euros, bringing its capital to 2 million euros. This seed round heralds the preparation of a next Series A round.
Meeting the demand for electric motors
The funds will be used to accelerate the industrialization of the company, in a context of strong demand. Thomas Frouin, co-founder of BlueNav, explains the production objectives. "We are structuring our production, with more staff and more skills. Compared to our current production of BlueSpin engines in 2023, we will be able to multiply our capacity by 3 or 4, as quickly as possible. This will enable us to reduce our delivery times, which are currently three months. There is a lot of demand, and the challenge today is to meet it. For the moment, we are staying with the 15, 30 and 50 kW range, fixed, retractable or inboard, which meets the needs well."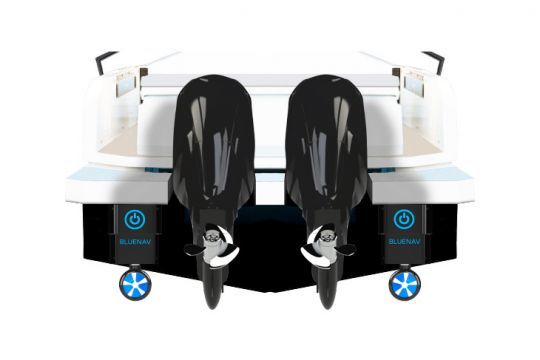 BlueNav highlights high global growth projections for electric mobility on water. The market is expected to grow from a valuation of $5 billion in 2021 to $16.6 billion by 2031.
At this stage, BlueNav is responding to requests to refit thermal boats with hybrid or pure electric systems, and the other half to original equipment projects. The equipment manufacturer then delivers to shipyards so that they can integrate the equipment directly.
Conquering the international yachting market
The other major ambition of the fund raising is to geographically expand the markets reached by BlueNav. The company already has agreements under negotiation in different parts of the world, notably in the United States. Thomas Frouin specifies this strategy: "For the moment we sell mainly in France and a little in Europe. Our ambition is to create a network of integrators or distributors, who have their own integrators, depending on the geographical area.
Source : By Briag Merlet – BoatIndustry.com (Magazine for boating professionals)